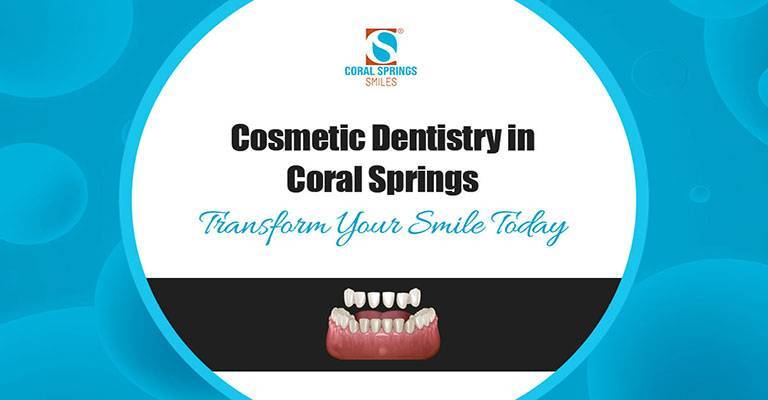 If you're looking to enhance your smile, cosmetic dentistry might be the right choice for you. Cosmetic dentistry procedures not only improve the appearance of your teeth, but they can also enhance your confidence and self-esteem. In Coral Springs, there are several cosmetic dentistry options available to improve the look and functionality of your teeth.
What is Cosmetic Dentistry?
Cosmetic dentistry refers to dental procedures that improve the appearance of your teeth, gums, and bite. It includes a range of services such as teeth whitening, veneers, crowns, bridges, dental implants, and orthodontics. The primary goal of cosmetic dentistry is to create a healthy, natural-looking smile that you're proud to show off.
Teeth Whitening: Teeth whitening is a popular cosmetic dentistry service that helps brighten your teeth by removing stains and discolorations caused by smoking, drinking coffee, tea, or wine, and certain medications. There are several teeth whitening options available, including in-office treatments and at-home kits.
Veneers: Veneers are thin, custom-made shells that are placed on the front surface of your teeth to improve their appearance. They are used to correct a wide range of cosmetic dental problems, such as chipped or cracked teeth, uneven teeth, and gaps between teeth.
Crowns: Crowns are tooth-shaped caps that are placed over a damaged tooth to restore its shape, size, strength, and appearance. They are often used to repair teeth that are severely decayed, cracked, or broken.
Bridges: Bridges are dental devices that are used to replace one or more missing teeth. They consist of an artificial tooth (or teeth) that is anchored in place by two dental crowns. Bridges are an excellent option for patients who want to improve the appearance and functionality of their smile.
Dental Implants: Dental implants are artificial tooth roots that are surgically implanted into the jawbone to replace missing teeth. They provide a stable and durable foundation for dental restorations such as crowns, bridges, and dentures. Dental implants are a popular cosmetic dentistry option because they look, feel, and function like natural teeth.
Orthodontics: Orthodontics refers to the use of braces or aligners to straighten crooked, crowded, or misaligned teeth. Orthodontic treatment can improve your bite and enhance the appearance of your smile.
If you're considering cosmetic dentistry, it's essential to choose a qualified and experienced cosmetic dentist. Look for a dentist who has undergone specialized training in cosmetic dentistry and has a proven track record of successful cosmetic dental procedures. You can also check online reviews and ask for referrals from family and friends.
Final Thoughts
Cosmetic dentistry can transform your smile and boost your self-confidence. If you're looking for cosmetic dentistry services in Coral Springs, contact Coral Springs Smiles at (954) 715-6840.